Diesen Lack aus dem neuen Catrice-Sortiment hab ich für
2,49€
im
dm
gekauft. Ich hatte vorher schon die neuen Catricetheken in mehreren dms gesehen und immer war dieser Lack ausverkauft.
Kein Wunder, denn
Genius in the bottle
soll ein
Chanel Péridot
-Dupe sein und ist auch so ein hübscher goldgrüner, duochromer Lack.
Der neue Catrice-Pinsel gefällt mir sehr gut. Er ist schön kurz und breit. Man kann ganz gut damit arbeiten.
Der Lack ist recht flüssig und sheer, deckt aber nach 2 dicken Schichten ganz gut. Der Auftrag war erwartungsgemäß sehr streifig. Die Trockenzeit zieht sich leider ganz schön hin.
Der Geruch ist leider außergewöhnlich unangenehm, das hab ich bei nem Drogerielack so selten erlebt *schüttel*
Auf dem Ringfinger hab ich Fireworks, auf dem Mittelfinger Genius und Péridot auf den Zeigefinger. Jeweils 2 Schichten von beiden.
Im Direktvergleich wird klar: Genius in the bottle hat einen viel wärmeren Grundton als Péridot, ist aber nicht so golden wie Fireworks. Eigentlich ist er ziemlich genau zwischen den beiden Lacken.
Fazit: kein Dupe.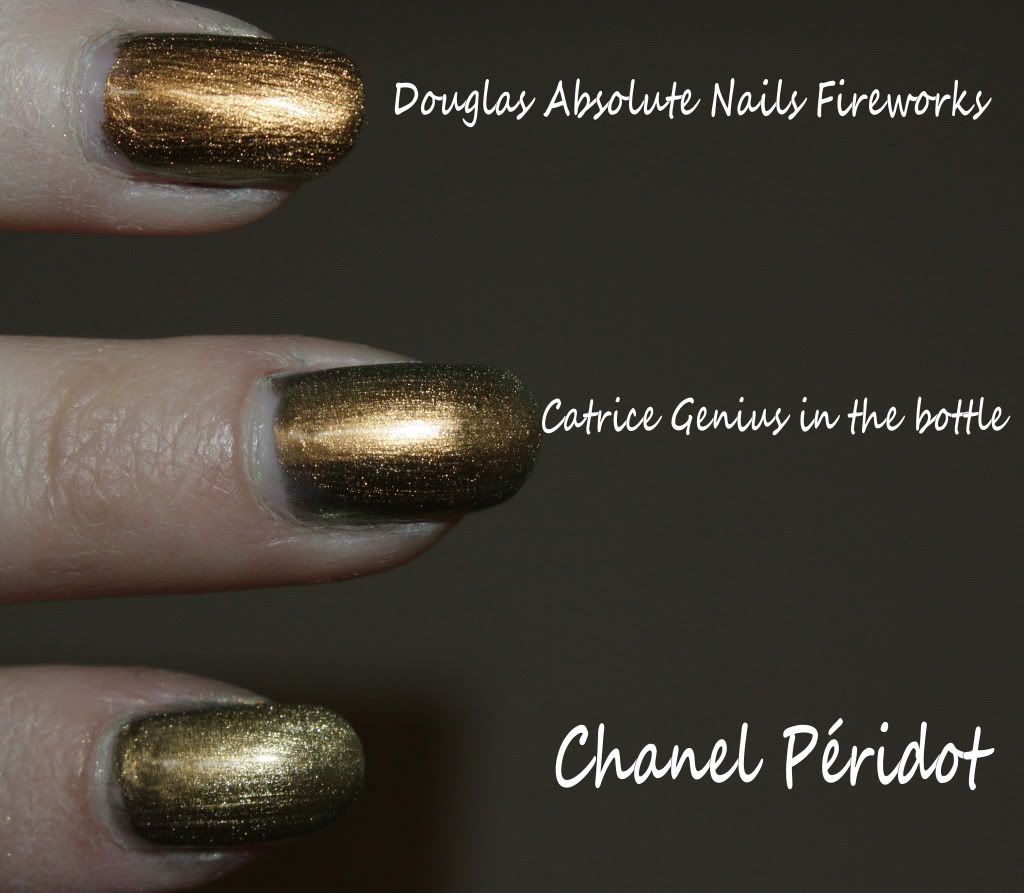 Fazit: kein Chanel-Dupe, aber auch sonst ein sehr schöner Lack.Leider finde ich die Konsistenz und Trockenzeit suboptimal. Trotzdem: Empfehlung.
Note 2